Product #FG4G211
2 Gallon Ameri-Can Gasoline Can
---
Where To Buy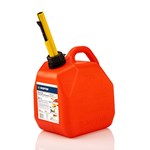 Product #FG4G211
2 Gallon Ameri-Can Gasoline Can
---
Available at These Valued Retailers:
---
Product Description
Designed over 60 years ago, the original red plastic jerry can by Scepter is still trusted around the world as the leader in safe fuel storage. This 1 Gallon gas can is made of durable HDPE and comes equipped with our child-safe EasyFlo spout and a flame mitigation device (FMD) for an added layer of protection.
*No fuel container, including one with an FMD should ever be used to start or accelerate a fire. GAS AND FIRE NEVER MIX!
Benefits
Rugged Design
Easy To Use
Child-Safe Spout
Flame Mitigation Device
Regulations & Safety Compliance
CARB / EPA Compliant
ASTM F2517-17
ASTM F852-08
ASTM F839-15
ASTM 3326-19